The Dangers of Budget Tree Removals
Posted - May 2, 2020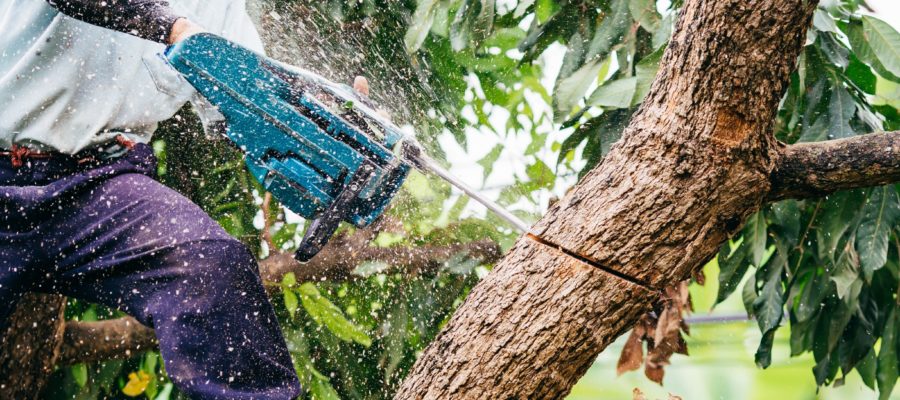 After the October 2019 tornadoes ripped through the DFW Metroplex, many trees had to come down. Large mature trees that fell on cars and houses put trees in complex binds that meant disaster for homeowners who hired an inexperienced arborist.
An ISA® Certified Arborist, on the other hand, has a minimum of three years of full-time experience in tree work and has taken a test covering all aspects of Arboriculture. This combination of experience and study gives you peace of mind when disaster shows up.
Removing a tree starts with a good rigging plan. The layout of the property and identifying the targets is critical to ensuring that your tree is removed safely. Sometimes a tree is so close to a house or expensive landscaping that a crane is needed. Experience and study makes the difference between costly repairs and peace of mind.
Hazards When Removing Trees
Electricity
Power lines are a major factor when considering how a tree should be removed. When trees have fallen on a power line, or tree branches have grown into a power line, the tree may become energized, creating a dangerous scenario. Electrical hazards are especially complicated because they are often unseen. A qualified arborist will work with local electric utility providers to avoid unnecessary electrical hazards or loss of power to your house.
Decay
Spotting decay on the trunk is usually fairly straightforward, but missing the signs of internal decay can be a recipe for disaster. If there is internal decay, the tree may not be safe to climb at all. A Certified Arborist can properly identify decay and determine whether it is safe to climb or if a crane or lift may be required to get it down safely. Rigging down a tree limb places extreme forces on the tree. If decay is overlooked, rigging down large pieces can cause the tree to fail.
Binds
A good understanding of wood fiber is critical in informing the decisions made by arborists. When a tree is bound, the fibers of the tree become twisted or bent and can't be cut the same as a tree with straight wood grain. Compression and tension forces in fallen trees can cause chainsaw cuts to spring back unexpectedly, causing damage or injury. Twisted sections of a tree often pinch the saw, react unexpectedly to cuts, and offer little directional control when rigging or felling. It is important to have a Certified Arborist who can identify binds, tension, and compression.
Making the Right Cuts
An experienced arborist will know what is going to happen long before a tree removal takes place. Considerations like lean or favor, wood decay, and binds are taken into consideration so the tree comes down in a safe and controlled manner. We know how to assess the hazards, factor in the environment, and put the pieces of this complex puzzle together. The safety and success of each tree project depends on this thorough assessment.
The next time a storm shows up (or ideally, before that), consider the consequences of hiring the cheapest contractor. Be sure you choose someone with emergency storm work experience and the education needed to protect you and your property.
Removing a tree is a hazardous operation and one that should only be performed by a licensed professional tree removal company. Contact Leatherface Tree Service to request a free estimate.